Here is the ULTIMATE Artist Point Elopement Guide, so you can have an amazing elopement filled with adventure and meaningful moments. I have filled this blog post with everything you'll need to know before you have your adventure elopement day. So get out a pen and paper so you can jot down some notes, or save this post for reference!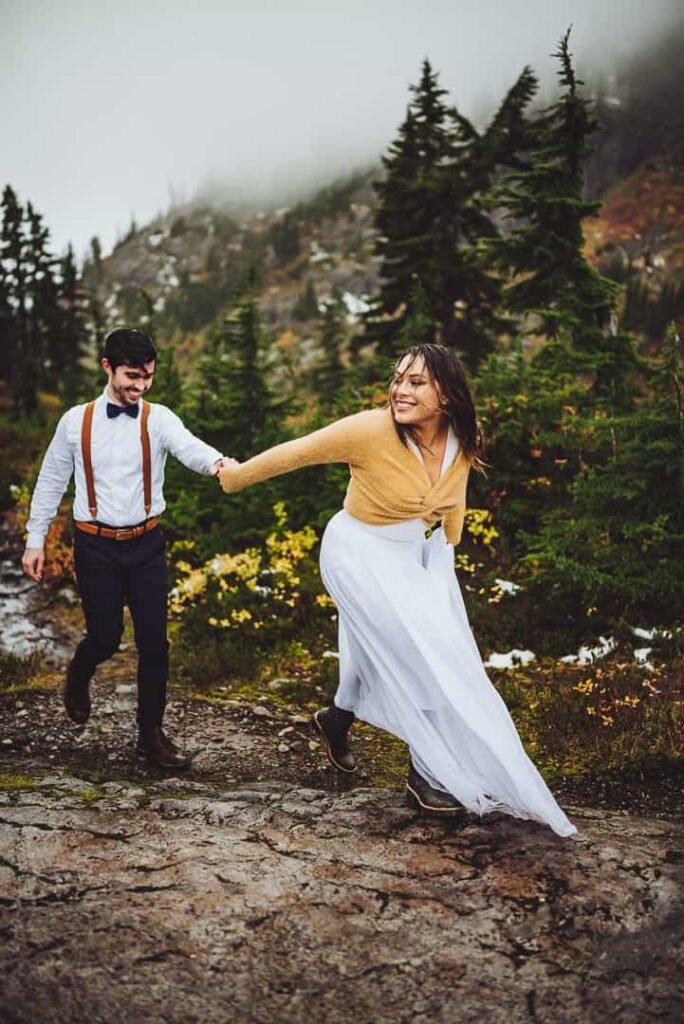 Things to Know before Planning your Artist Point Elopement
First off, getting married in the Mount Baker-Snoqualmie National Forest is not as hard as you think it would be! I think the hardest part is figuring out where and when to have your elopement. That being said, there are a few guidelines to follow before planning your Artist Point Elopement.
You DO need to have a permit to have a wedding in the National Forest, it's not hard to get though! Typically you need to apply a minimum of 3 weeks in advance for Fall/Winter elopements and 6-8 weeks in advance for Spring/Summer elopements
Most trails are limited to only 12 heartbeats in attendance, so for example…4 people and 1 dog are counted as 5 separate heartbeats. This is just to keep gatherings very limited so that no one starts going off trail and damaging the alpine vegetation.
In Washington state, you need to apply for your marriage license at least 3 business days in advance. (So a Saturday wedding needs to be applied for at the latest on Wednesday.)

You also need to have an officiant and two witnesses to sign your marriage license. Technically the witnesses can be people you find on the trail, they don't necessarily have to be at the vow exchange itself. P.S. I offer complimentary officiant services to all my couples, if wanted!
How to Get to Artist Point
If you're coming from out of state, your best bet would be to fly into Seattle Int'l Airport and either drive the 3 hour trek to Mt. Baker or take a connecting flight to Bellingham. From Bellingham, it's only a little over 50 miles to get there. The drive from Bellingham is absolutely beautiful. You can stop in a few cute towns and breweries. The mountain roads are gorgeous, winding and are definitely worth the drive up.
When Should you Get Married at Artist Point?
ANY time of year is a great time to get married at Artist Point. But, I also know that there are some days that can be a bit more magical than others. Here is all you need to know about the different times of year you can have your own Artist Point Elopement.
Spring is a beautiful time of year here because the days begin to get longer, and are more mild in temperature. Flowers are blooming everywhere and you can feel the hum of brand new life around you. When it comes to elopement activities think: snowshoeing in the backcountry trails, skiing and snowboarding in much milder and sunnier days. Spring is actually one of the BETTER times to have a snowy, winter-like elopement because the spring days are much calmer and less temperamental than winter days. In turn, you'll have much more predictable weather for your wedding day.
Think:
Skiing, Snowboarding, Snowshoeing, and more chances to see wildlife that are emerging from winter hibernation.
Next we have summertime. I think, by far, summer is the most popular time of year here in the Pacific Northwest. The summer temperatures are warm and inviting, also bringing amazing views of the Mt. Baker and Mt. Shuksan peaks. The weather is typically MUCH more predictable during the summer as well. At this point, the snow has already pretty much melted away and left only the tops of the mountain peaks coated in white snow. Summer also brings lush and vibrant colors in the alpine meadows and boasts incredible, blue-green lakes from the river and glacial runoff.
Think:
Camping, hiking and backpacking, rock climbing, mountain biking, and river rafting
I feel like Fall in itself is a whole vibe. I mean the Pacific Northwest is not super well known for its fall colors…BUT, it does NOT disappoint. Glowing oranges and fire reds are all over the Mt. Baker meadows. The days are a bit shorter and you can begin to feel that crispness in the air. Most of the summertime activities can be still done in the fall, but you can add in blueberry and huckleberry picking as well. You'll also definitely have more rain and that moody fog that the PNW is known for.
Think:
Camping, hiking and backpacking, rock climbing, mountain biking, river rafting, and mushroom foraging
Winter in the Mt. Baker area is absolutely beautiful. The mountain peaks here are home to world class skiing, and they have some of the highest snowfall in the world. The major highway leading into the Mount Baker Wilderness area is prone to road closures, so it's definitely something to keep in mind. Winter weather can be pretty unpredictable and harsh, so being used to alpine winters is super helpful. But if you love winter wonderlands, Mt. Baker has so much to offer.
Think:
Skiing, snowshoeing, snowmobiling, winter fishing, low elevation hikes, and eagle watching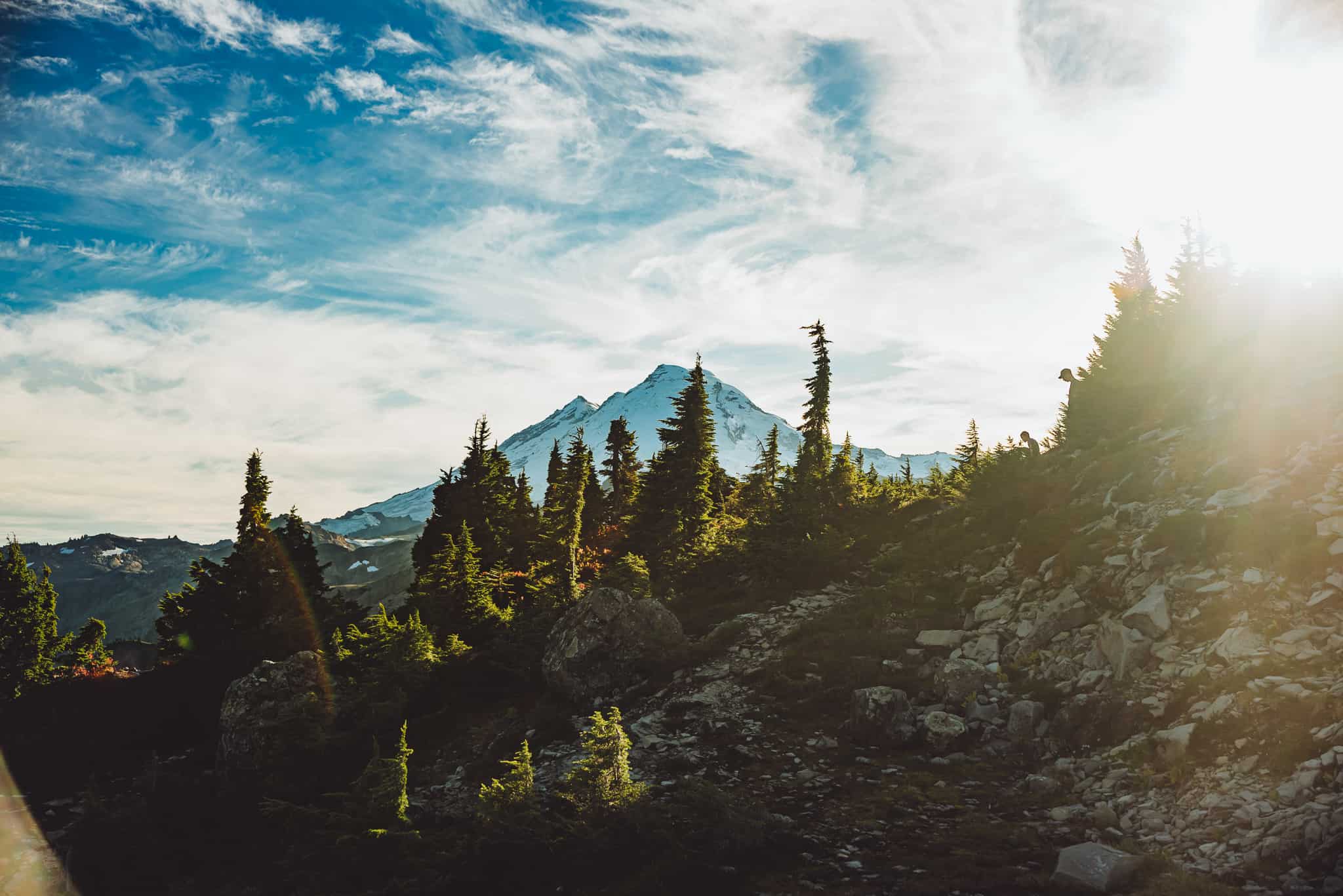 What to Pack for your Artist Point Elopement
Okay, this is such an important topic, so I'm going to do my best to not be too overwhelming. First and foremost, planning ahead is going to be absolutely key. You can't have a memorable Artist Point Elopement without taking some time to plan what you need to take with you. Well…I guess you can, but it won't be memorable in the way that you want it to be. 😉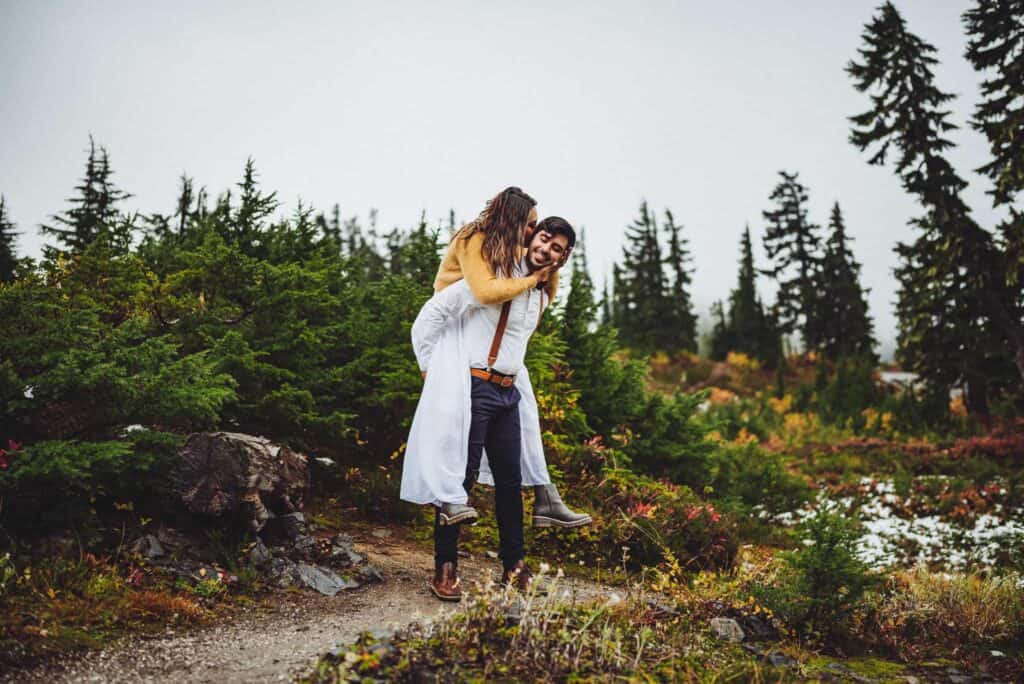 1. The Right Outerwear
Depending on the time of year you choose to elope in the Mt. Baker National Forest, or anywhere else in Washington, outerwear is going to be your BFF. Make sure to pack raincoats, extra jackets, hats, and mittens. Washington is known for its mild weather but if you're going to be in the higher elevations for either sunrise or sunset, you want to be prepared for colder weather. Plus, you can find SUPER cute coats and even cardigans that will compliment your elopement and make it that much more special.
2. Comfortable Footwear:
There's nothing worse than planning to be out all day in the elements and having the WRONG shoes. Trust me, been there…done that. It's not fun! You're going to want to look for comfort and footwear that will have the traction and support you need when hiking those narrow, winding trails. Also make sure that if you're buying new boots for your elopement, break them in first. Take some time to really walk around in them so that on your wedding day, you're not worried about blisters.
3.Layers, Layers, Layers
Pack wool socks, long sleeve thermal shirts, and even leggings and tights. Consider purchasing tights that are nude toned. This will help them stand out less and still give you some warmth and coverage. Here are two different brands to help start you off, these non-fleece lined one's have the MOST range in skin tones, and these fleece lined one's are much more limited but provide pretty good warmth for a good price point! (I'm not affiliated or sponsored by either of these choices.)
4.Snacks
Food is maybe something not up too high on your elopement day packing list, but it's so important! The last thing you want is to be mid-hike and getting "hangry" at the world! Packing a few of your favorite items is a good idea, especially when you're going to be out in the wild. Some good ideas of small items to pack are: protein bars, fruit sauce packs, jerky, granola bars, trail mix, even a thermos of hot coffee if you're hiking up at sunrise!
5.Water
Finally, I feel like this goes hand-in-hand with the snacks, BUT having enough water for your elopement day is important. Even if you're not having a long hike, having water can help prevent dehydration and lessen the effects of altitude sickness. Drinking plenty of water can help keep your skin clear and fresh looking too!
Props + Florals at your Artist Point Elopement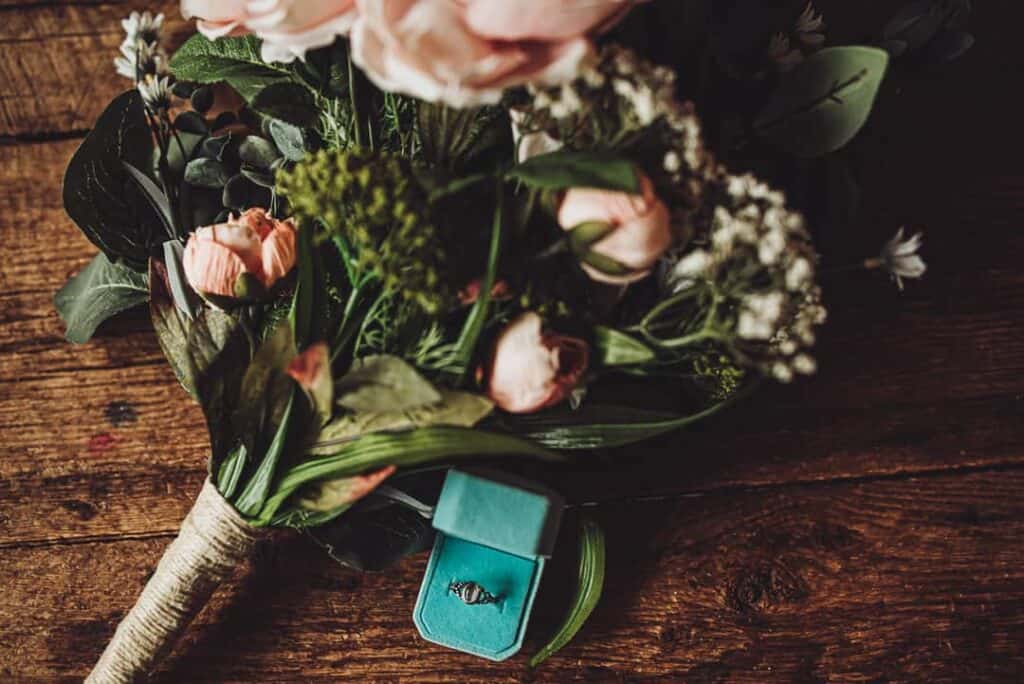 I'm going to try and keep this section short and sweet. The reason for this is, when you're choosing adventure by having an Artist Point Elopement, you're choosing to forego all of the traditional wedding day customs. A few of these big customs are having extravagant florals and props/arches. This topic also goes hand in hand with Leave No Trace principles, so if you need any tips on how to have your own LNT elopement, check out that blog here. >>>>> LNT Tips
Generally, it's safe to assume that most (if not all) props are highly discouraged and not allowed to be brought into the national park. The reason is because most of the typical props are big and can really damage the fragile alpine vegetation. All of the gorgeous wildflowers you see in the meadows are SUPER delicate and take years to recover from damage. So, it's better to just stay away from props and arches in most national parks.
It's hard to imagine a wedding day without some kind of floral piece, like a bouquet. And the good news is, you CAN bring a bouquet or other small arrangement with you on your wedding day. The general guidelines are:
Floral arrangements that are WEED FREE (flowers that are generally considered "weeds") + SEED FREE (so no flowers that have seed pods or any seeds that can be dropped) are okay to bring
Fake flowers are also okay to bring with you on your wedding day
Now this can be a great time to work with local florists to get flowers that are native to the area and have the seasonal colors that you may be hoping for as well. If anything, it's also a great time to be a DIY'er and find some gorgeous silk flowers from your local craft store to make the bouquet or other flower arrangement of your dreams! I'm all about the do-it-yourself spirit!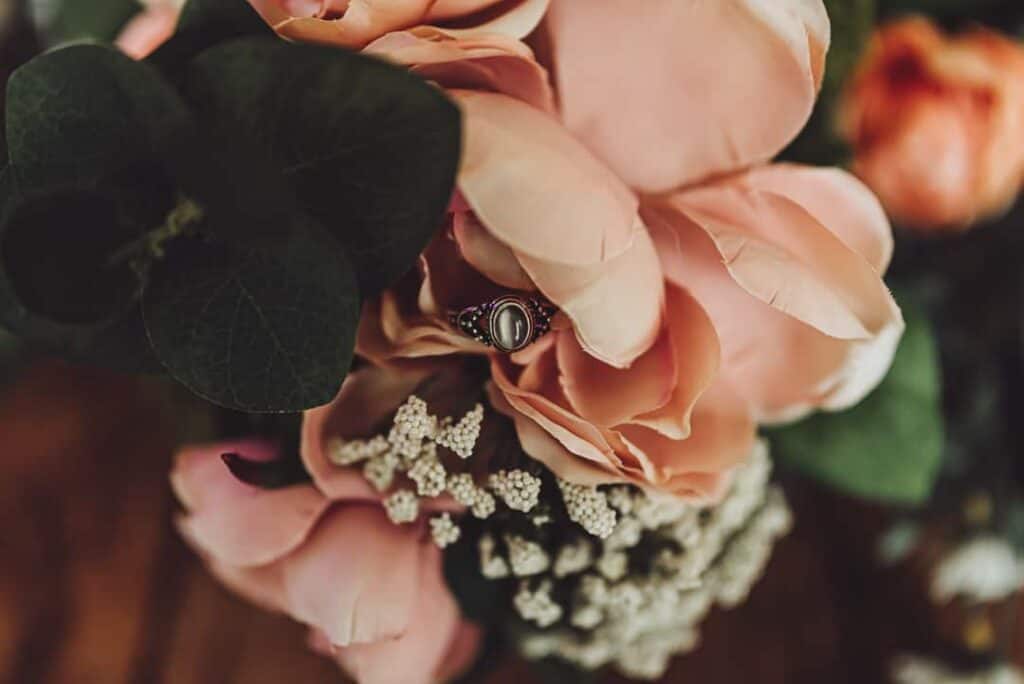 Nearby Towns + Places to Stay
There are a few different towns to choose from in the area, each having their own special charm! Here are a few places to think about when planning your elopement. I have no affiliation with any of my recommendations here, it's just a general list to get you started on your search!
Glacier, Washington– This is a tiny mountain town with the perk of being right at the gateway to the Mount Baker Wilderness area.
There are a lot of cute cabins in the area as well but I love this A-Frame cabin. >>> Rustic Cabin
Maple Falls, Washington- This town is about 15 minutes to the foot of the National Forest area and is very cute with small town charm.
Here is another absolutely adorable A-Frame cabin in the area to check out. >>> Wander A-Frame
So, now onto the topic of FOOD! What's a wedding day without some good food to eat?? This is definitely going to require some creativity because there are not a lot of food options once you reach the top of Artist Point at Mt. Baker. BUT, it doesn't have to be just some granola and trail mix either. Here are my top suggestions on what to pack for your elopement day:
CHARCUTERIE BOARDS
I LOVE charcuterie boards. They can be as simple or as fancy as you want them to be. So many places make them and they can bring a touch of whimsy to your elopement day. Plus they're super easy to pack and can be a great "picnic" type option. Throw in some local craft beer and you're SET! Plus, bringing a charcuterie board is a great way to support small businesses and sample local meats, cheeses, and even seasonal produce. Lastly, charcuterie boards can be a unique and elegant way to have your first meal as a married couple. Here are a few companies you can check out!
Yeah Baby Boards : Located in Ferndale, WA
Graze and Gather : Located in Lynden, WA
Twin Sister's Creamery :Located in Ferndale, WA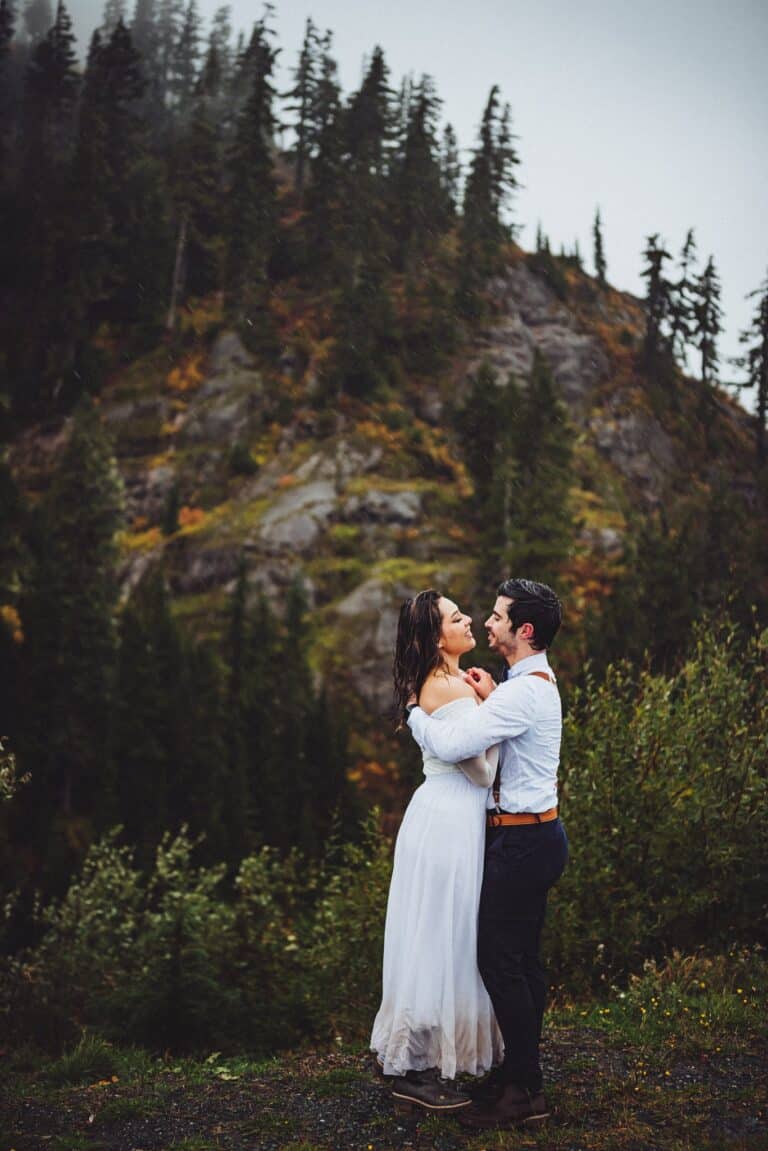 PIZZA
Now while eating pizza on your wedding day may not seem like an option, it definitely is! Listen, if you're not both fancy people who want a big spread, then don't! Your wedding day should be what you and your partner want, not what you think is "expected." Here are a few restaurants in the area that you can check out.
Chair 9 : Located in Glacier, WA
The North Fork Brewery : Located in Deming, WA
POST ELOPEMENT PRIVATE CHEF:
Okay, I know this one is the COMPLETE opposite of the laid back pizza suggestion I gave you earlier. BUT, hiring a private chef to cook for you on your elopement day is one way to make it ULTRA memorable. I think we all deserve to have that something extra on our wedding day. I mean, imagine coming back to your cozy cabin to a delicious meal for two?! Add, dancing under the stars after your meal and you have one of the most EPIC days ever.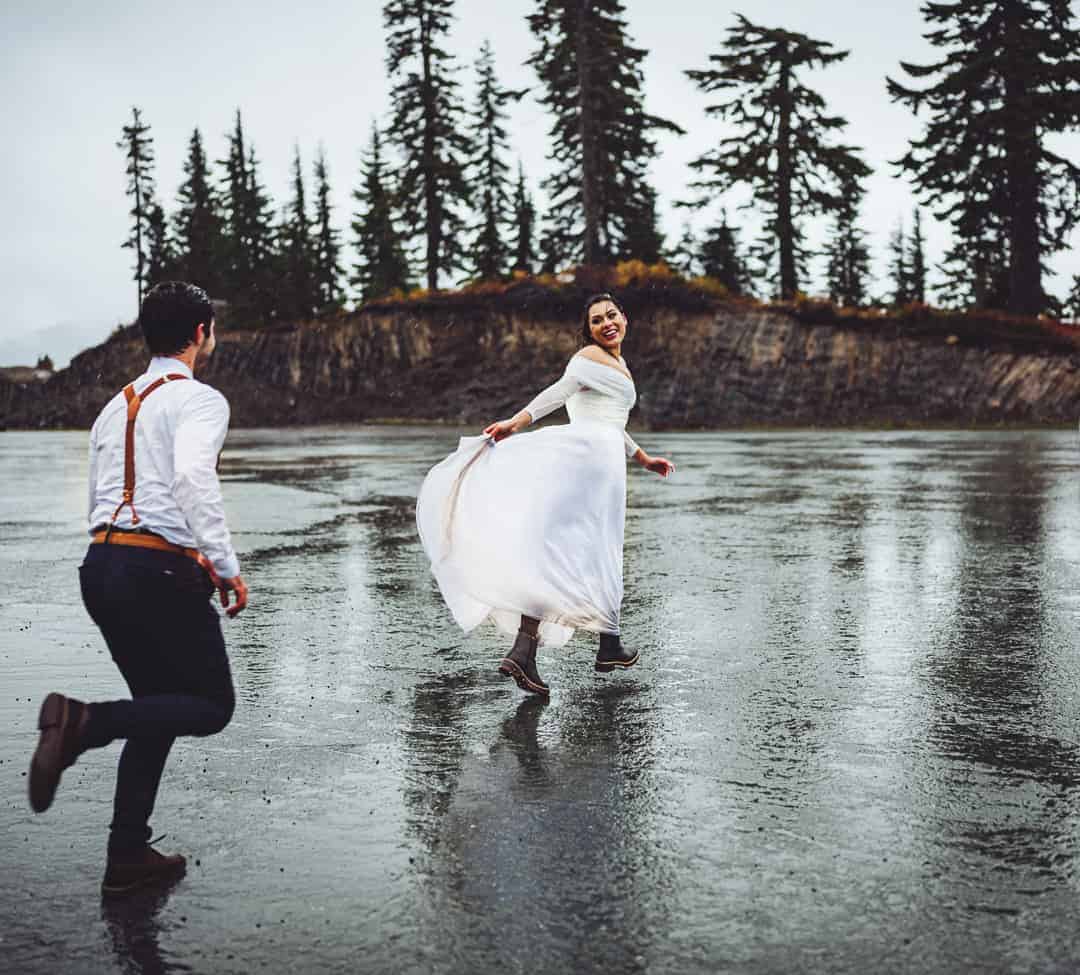 If you're ready to start planning your elopement at Mount Baker, SO AM I! Choosing WHERE to elope is the hardest part, but choosing your photographer, shouldn't be. I try and make the process as simple as possible! So hit that contact form below and we can start planning the Artist Point Elopement that is totally and uniquely, you.